Greeting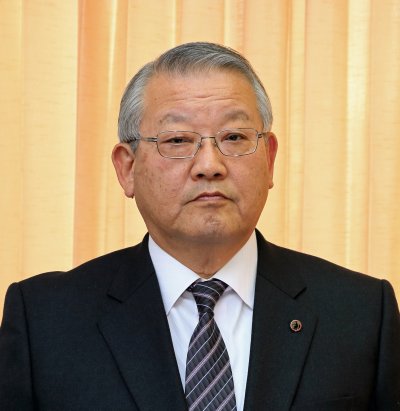 After our start as an eraser manufacturer in 1948, we successfully developed adhesives for footwear by utilizing our expertise. Since then, we have made various contributions to the progress of the production and quality of shoes. Even now, our company holds 60% of the market share of adhesives for footwear in Japan. We have also developed a wide variety of adhesives for many fields, such as automobiles, construction materials, wooden furniture, etc. while catering to the needs of the markets.
Our main goal is to lead the 21st century by "utilizing our expertise to offer quality products for the future." In order to achieve this challenge, our motivated collaborators will strive to "connect" the whole world and make people's dreams come true.
Representative Director/ Company President
Chobee Tanaka
Philosophy
■ Management Philosophy
As a manufacture of adhesives, we are conscious of our responsibility to develop and supply valuable products which will contribute to the creation of an abundant, sustainable society.
■ Department Philosophy
Sales department
We strive to create strong close and mutually prosperous relationships with our customers in order to realize their goals.
Research and development department
We create a new value by utilizing our knowledge and passion.
Production department
Using our originality and ingenuity, we aim to increase the satisfaction of our customers while working toward continuous improvements of our quality control.
Purchasing department
With a global point of view, we procure raw materials and equipment for even better products.
■ Our environmental policy
In recent years, with an awareness of environmental issues occurring globally caused by chemical materials, our company is highly conscious of effects to the environment at all stages of our business activities and we strive to realize a healthy connection with the environment.
Our environmental strategy
  1. We respect all laws, regulations and other related articles regarding the environment. We proceed in our enterprise with an awareness of and in harmony with the environment.
  2. We try to reduce effects on the environment of any stage of our business development process.
  3. We strive to educate all our employees in our environmental policies in order that each entity of our company can self sufficiently take measures to protect against pollution.
Summary
| | |
| --- | --- |
| Founded | January 1948 |
| Established | April 1963 |
| President | Chobe Tanaka |
| Main Office | Yao City, Osaka prefecture |
| Branches, Offices | Tokyo, Osaka, and Kobe |
| Factory | Tsuyama City, Okayama Prefecture |
| Capital | 40 million yen |
| Annual sales | 5.56 billion yen(2022) |
| Employees | 140 people(February 2023) |
| Business Description | Research and development, manufacturing and marketing of various types of adhesives |
| Primary Bank | MUFG Bank, Ltd., Osaka City Credit Union |
History
January 1948
Tanaka Institute for Chemical Research Manufacture and sales of erasers and subs begins.
March 1955
Launch of natural rubber-based adhesives.
February 1957
Launch of Chloroprene-based nitrile-based rubber adhesives.
October 1960
Begin Exporting to Southeast Asia.
April 1963
Company changes name to No-Tape Industrial co., Ltd.
October 1965
Launch of polyurethane-based epoxy-based adhesive.
April 1973
Launch of EVA-based adhesives.
November 1989
New plant "Tsuyama factory" completed (factory integration)
June 1994
Fourth production plant is completed. Production capacity: 1500 tons per month achieved.
October 1997
Marketing alliance started with Germany Jowat Inc.
August 1999
Tsuyama factory ISO9001 acquisition.
Fifth production plant is completed.
Acrylic PSA production facilities (Devolatilization equipment) are installed.
December 2003
Tsuyama factory JIS A5536 acquisition.
February 2006
Tsuyama factory cosmetics manufacturing permit acquisition.
January 2007
(Introduction of 8000 L kettle and 6000 L kettle),
Expansion of the 1-2 mill floor for urethane adhesive manufacturing plant.
June 2008
Tsuyama Factory receives the new JIS system authentication.
April 2015
New warehouse is completed.
August 2015
New hotmelt production kettle is completed, Third plant.
Access
| | | |
| --- | --- | --- |
| Headquarters | 3-1-19 Atobehonmachi, Yao-city Osaka, Japan (Zip:581-0064) 【GoogleMap】 | |
| Tsuyama Plant | 468-2 Kanai, Tsuyama, Okayama, Japan (Zip:708-0855) 【GoogleMap】 | |
| Tokyo Branch | 5F Higashi-Ueno Center Building 2-1-13 Higashi-Ueno, Taito-ku, Tokyo, Japan (Zip:110-0015) 【GoogleMap】 | |
| Kobe Office | 1-2-2 Kawanishidoori, Nagata-ku, Kobe-city, Hyogo, Japan (Zip:653-0834) 【GoogleMap】 | |